How to attract more customers at the exhibition site?I think it is the best way through unique trade show booth design and high quality booth construction.Following are some tips about trade show booth design: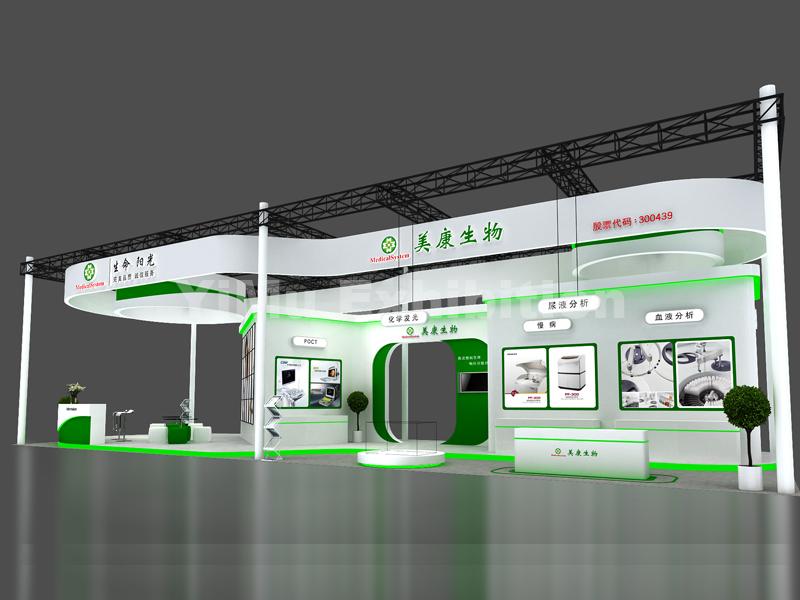 First, Uniform design
The exhibition design layout can be divided into different types for the different products displayed each time, and the unified design has an overall brand image. At the same time, it is classified according to different products, so that the entire exhibition hall can be displayed in an orderly manner and not messy.
Second, From the perspective of visitors
The main purpose of the exhibition design and layout is to allow people to visit. When arranging the booth, it must be arranged from the perspective of the visitors. The product placement should be convenient for users to visit or experience the product performance, then if you want to highlight the product It must be placed in a prominent place, and there should be basic information and written instructions.
Third,Bright personality
Many exhibitions are based on different booth positions, so their products will also have different points. For many important exhibits, they should be placed in the center of the entire exhibition hall during the design and layout of the exhibition, so that visitors can find The focus can also be brightened at the same time.
Fourth, Features of the exhibits
In the process of exhibition design and layout, each display product has its own characteristics. Therefore, in the process of exhibition layout, focus on the characteristics of this product. In this way, the display level of the exhibition hall will be placed in order. It will not be too dense, and at the same time with the effect of lighting, it will show the grade of the exhibition hall.
Fifth, Three-dimensional space
The three-dimensional space of the booth should be used in the process of exhibition design and layout, and different methods such as suspension and tile can be used to build a well-arranged booth, which can also make visitors more deeply impressed by the booth.
YiMu Exhibition was founded in 2003, providing one-stop solution for all exhibition and event related needs all over the world. Our core businesses include trade show booth design and booh construction, event and conference management, official construction and exhibition hall services. We have the ability to undertake and create unique concepts at all levels.